Here's what our customers say ❤️
Sophia

Review in United States

Product: Mosaic Verified purchase

Easy handling, super fast processing and delivery. Top quality - only with the delivery by UPS not entirely Rieden.

Tina

Review in Milwaukee

Product: Mosaic Verified purchase

Easy to navigate compared to other sites, prompt efficient service highly recommend

BRENDAN

Review in GLASGOW

Product: Mosaic Verified purchase

I was amazed how simple the whole process was from start to finish, and how incredible the finished product has turned out to be.

Emma

Review in Portland

Product: Mosaic Verified purchase

Love love love ...... its exactly what I wanted. Brilliant quality, exactly like the option I picked, will use again for future events. O love how.i can see all wedding photos in 1 picture. Had so many comments about it. Came in a great time too.

Paul

Review in Orlando

Product: Mosaic Verified purchase

Very pleased with the picture and service in every aspect

Louise C.

Review in Cincinnati

Product: Mosaic Verified purchase

A gift for my parents...they were thrilled with it...

Wendy W.

Review in St. Louis

Product: Mosaic Verified purchase

Very impressed will definitely order more ..blown away by it

Stuart M.

Review in Miles City

Product: Mosaic Verified purchase

Found site by accident but they have great products

David B.

Review in Albuquerque

Product: Mosaic Verified purchase

Ease of operation
---
Just 3 steps for your awesome Business Photo Mosaic
1. Upload
main image

2. Upload
individual photos

3. Create
photo mosaic

---
Lovely ideas for a corporate Business Photo Mosaic 💪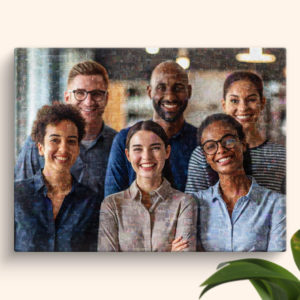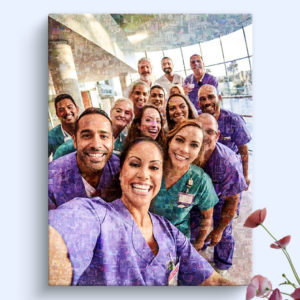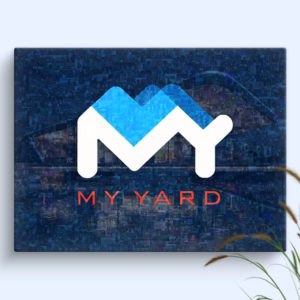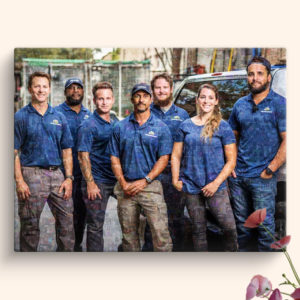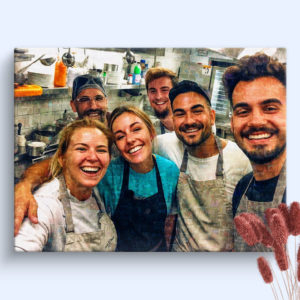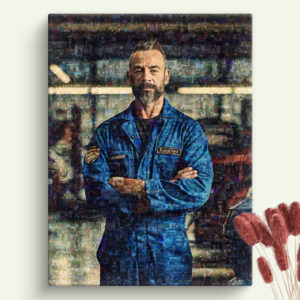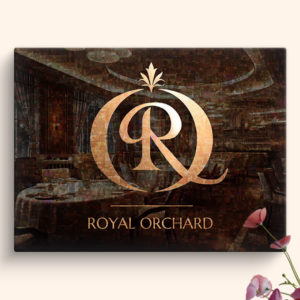 ---
Your Team Photo Mosaic 🏆
Enhance team spirit and unity with a customized business team building photo mosaic.
---
Start here
Your company logo as Photo Mosaic
Elevate your brand identity with a stunning logo photo mosaic that showcases your company's values and mission.
---
Start here
Team work makes the dream work
Celebrate your team achievements or your company anniversary with an individual photo mosaic.
---
Start here
---
Tip: You can use your logo as the main image and complete the mosaic with all of your employees photos.
---
How to create a Business Photo Mosaic 🔱
Why create a Business Photo Mosaic?

Your business is unique, and our

business photo mosaic

reflects this individuality.

We take your corporate images, logo, or team-building moments and blend them into a visually striking mosaic, creating a unique representation of your brand.

Display your Business Photo Mosaic in your workspace, and it becomes a powerful reminder of your team's unity and shared accomplishments.

It inspires collaboration and showcases your commitment to excellence.

How can I create a Business Photo Mosaic?

Begin by collecting a range of images that showcase

the team and memorable moments from team-building activities, work events, and achievements

which you'd like to use

to form the company logo

.

Select a central image that represents your team or your company logo or emblem.

Upload the team-building images into the generator. Generate the mosaic, resulting in a visually distinctive piece of art that effectively showcases your company's brand identity and recognition.

Each tile is a smaller image that collectively embodies team spirit and unity, making it a great addition to the office or a memento for team members.

This can be displayed in your office, used for corporate events, or as a unique gift for clients or employees.

How long does it take to create a Business Photo Mosaic?

Pretty fast: You just upload your team, business or campany photos and our mosaic generator will create your company mosaic within a couple of minutes. After that you can edit your photo mosaic as you like and download the final version. That's it your beautiful photo mosaic with your team is done.

How to create my photo mosaic?

With our photo mosaic creator you need 3 things only: a smartphone or computer, internet access and - of course - your company photos. So, there is no need of downloading or installing a software.

Do I have to pay for creating the mosaic?

No you don't. Our mosaic creator is for free. If you like the mosaic you can download it and have it printed at a local or online print shop. So the only costs will occur when ordering the digital file.

How many teams photos can/should I use?

You need at least 30 photos + 1 photo of your team for the main image. You can upload up to 1,000 single pictures for your business mosaic. The more photos you're transferring the better the result for your photo mosaic.

How large will the final mosaic be?

That depends on the format of your main image and the file resolution you choose when ordering.

The higher the resolution the larger you can print your photo mosaic

. Find out more about our

mosaic prices

.

What's the size of the single images?

The small images will have a minimum width of 1 inch. This size is the perfect balance between single images and main photo: you can clearly see the all images within a single large mosaic.

Can I print my Business Photo Mosaic?

Yes

– and we made it pretty easy for you! Our automatic quality check will make sure that you'll get the

best printing results

possible. Just

hit the download button

after finishing your mosaic.

If you want an XXL version you can also print your mosaic in a local shop or on any other printing platform.
---
---
You may also like