Here's what our customers say ❤️
Sophia

Review in United States

Product: Mosaic Verified purchase

Easy handling, super fast processing and delivery. Top quality - only with the delivery by UPS not entirely Rieden.

Tina

Review in Milwaukee

Product: Mosaic Verified purchase

Easy to navigate compared to other sites, prompt efficient service highly recommend

BRENDAN

Review in GLASGOW

Product: Mosaic Verified purchase

I was amazed how simple the whole process was from start to finish, and how incredible the finished product has turned out to be.

Emma

Review in Portland

Product: Mosaic Verified purchase

Love love love ...... its exactly what I wanted. Brilliant quality, exactly like the option I picked, will use again for future events. O love how.i can see all wedding photos in 1 picture. Had so many comments about it. Came in a great time too.

Paul

Review in Orlando

Product: Mosaic Verified purchase

Very pleased with the picture and service in every aspect

Louise C.

Review in Cincinnati

Product: Mosaic Verified purchase

A gift for my parents...they were thrilled with it...

Wendy W.

Review in St. Louis

Product: Mosaic Verified purchase

Very impressed will definitely order more ..blown away by it

Stuart M.

Review in Miles City

Product: Mosaic Verified purchase

Found site by accident but they have great products

David B.

Review in Albuquerque

Product: Mosaic Verified purchase

Ease of operation
---
Just 3 steps for your unique Photo Mosaic ✨
1. Upload
main image

2. Upload
individual photos

3. Create
photo mosaic

---
Create a Stunning Photo Mosaic with your favorite pics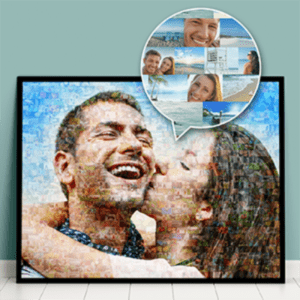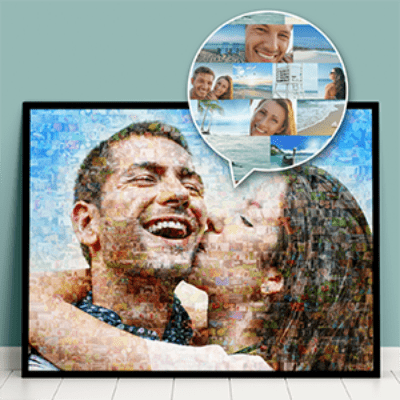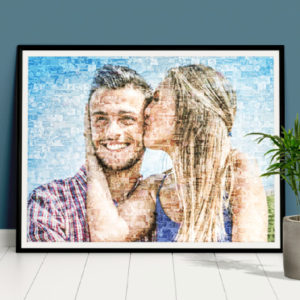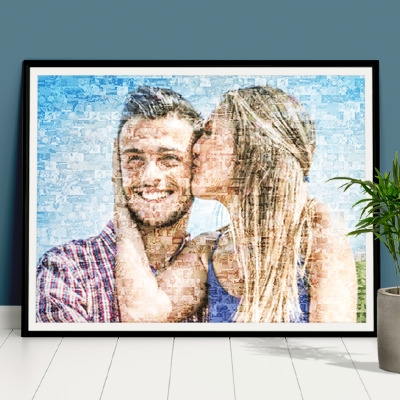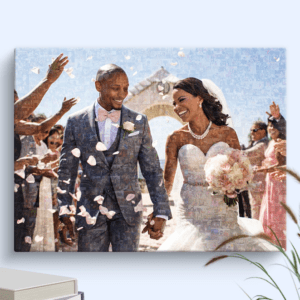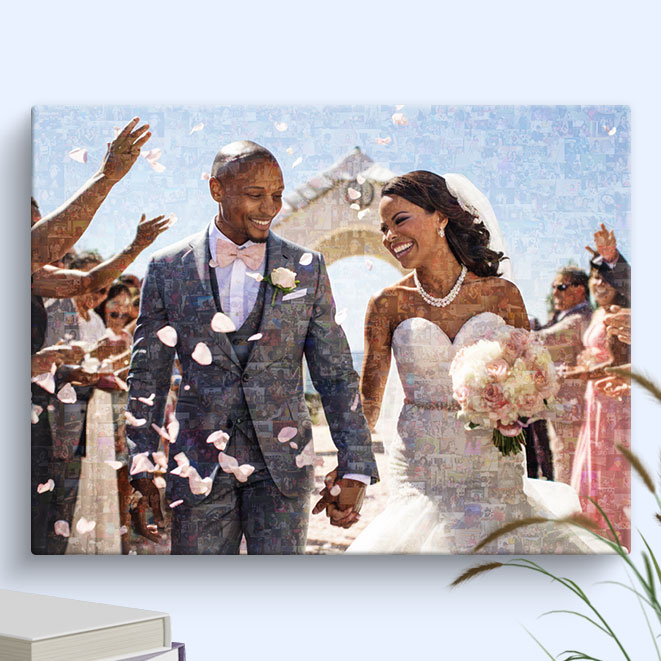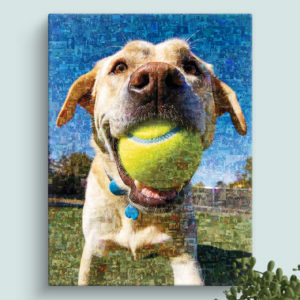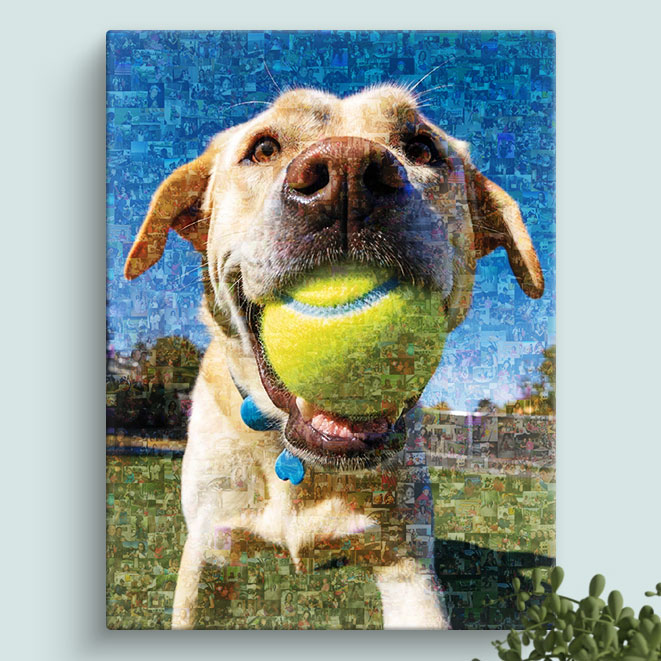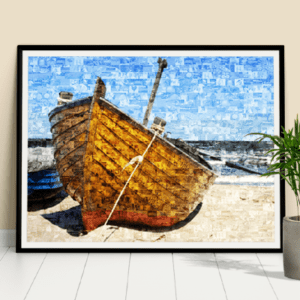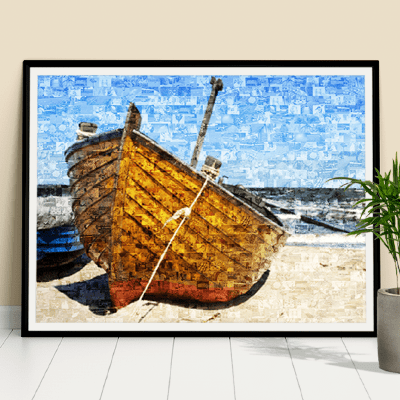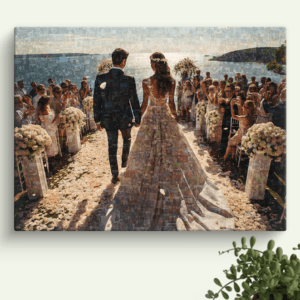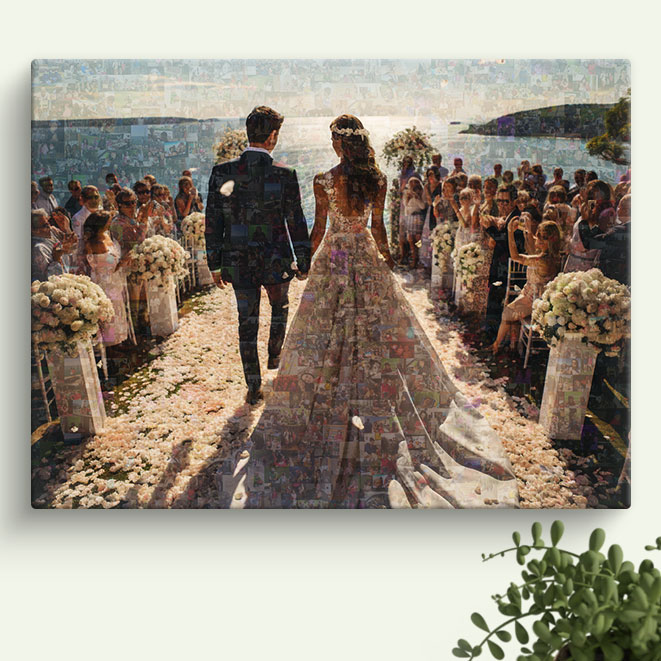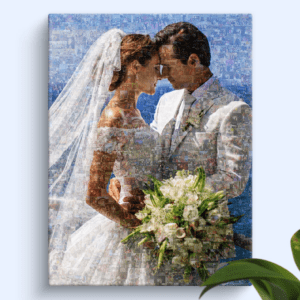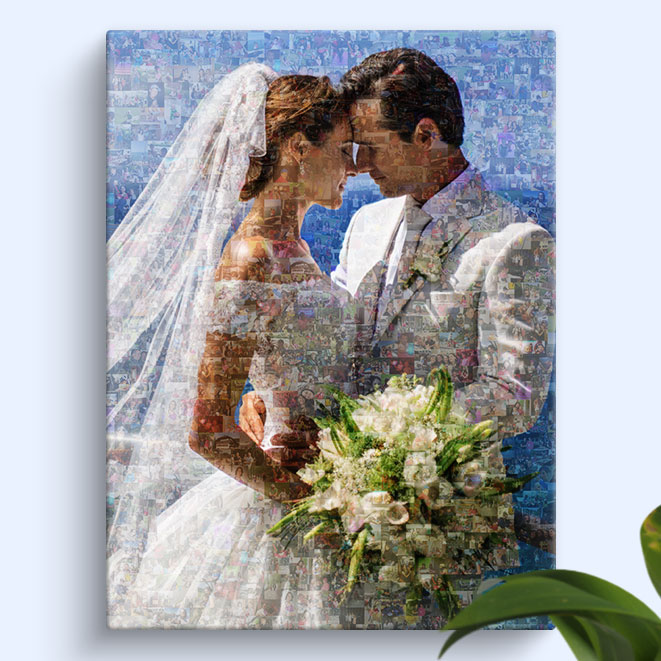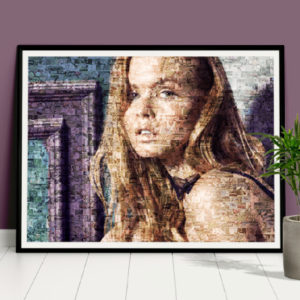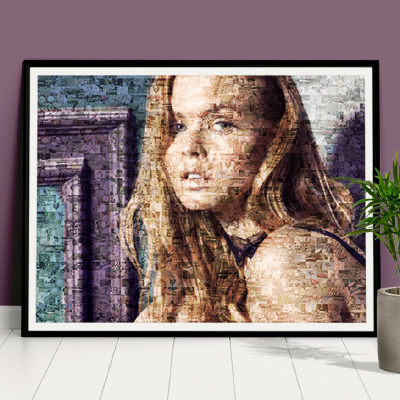 ---
Online Photo Mosaic Creator
Make your own beautiful mosaic with our online photo mosaic creator. Our mosaic generator is simple to use. Start creating a mosaic from photos immediately by uploading your photos. The photo mosaic maker makes it easy to create your own amazing mosaic. After your mosaic has been generated you can download directly a high resolution file in three different versions.
---
Mosaic Creation made Easy 🎉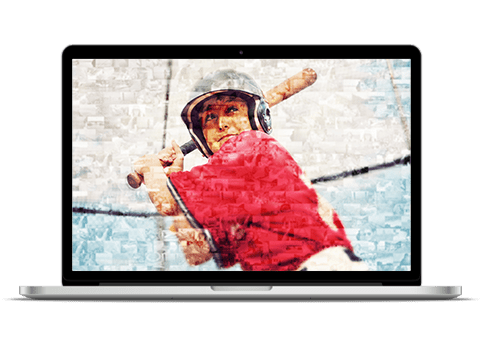 It has never been that simple to create a piece of art made of lovely memories. Just Upload. Edit. Create & Download - That's it!
---
Start here
---
Up to 1,000 Photos 🚀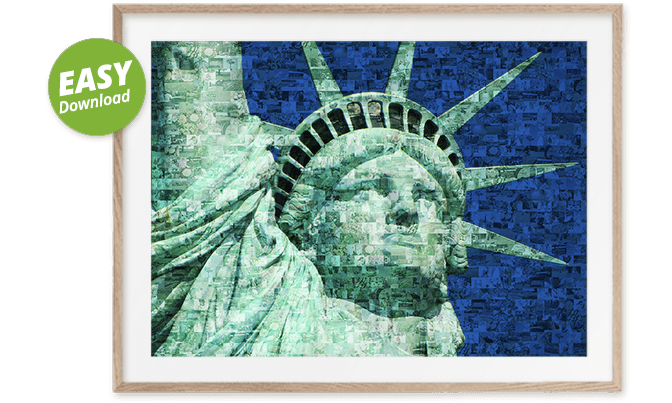 Easy & safe upload. Unlimited editing of your main and single images. Our mosaic creator runs on any device without installing expensive software.
---
Start here
---
💡 High Resolution Pictures mosaic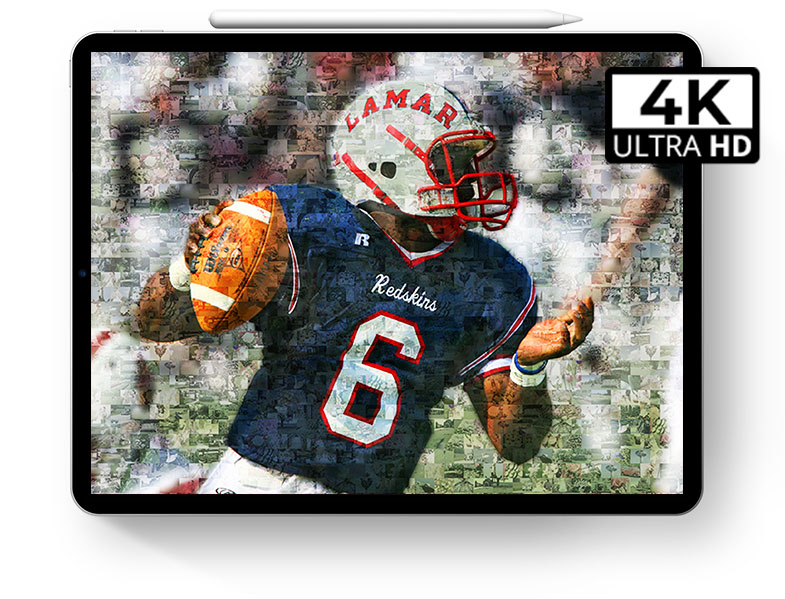 We offer high resolution mosaic photos for any occasion. All of your favorite photos to mosaic turned into one impressive & stunning picture.
---
Start here
---
🪄 Create Magical Moments with our Easy Mosaic Maker
How long does it take to create a photo mosaic?

Pretty fast: You just upload your photos and our mosaic generator will create your mosaic within a couple of minutes.

After that you can edit your photo mosaic as you like and download the final version.

How to create my photo mosaic?

With our photo mosaic creator you need 3 things only: a smartphone or computer, internet access and - of course - your photos. So, there is no need of downloading or installing a software.

Do I have to pay for creating the mosaic?

No you don't. Our mosaic creator is for free. If you like the mosaic you can download it and have it printed at a local or online print shop. So the only costs will occur when ordering the digital file.

How many photos can/should I use?

You need at least 30 photos + 1 photo for the main image. You can upload up to 1,000 single pictures for your mosaic. The more photos you're transferring the better the result for your photo mosaic.

How large will the final mosaic be?

That depends on the format of your main image and the file resolution you choose when ordering. The higher the resolution the larger you can print your photo mosaic. Find out more about our mosaic prices.

What's the size of the single images?

The small images will have a minimum width of 1 inch. This size is the perfect balance between single images and main photo: you can clearly see the all images within a single large mosaic.

What's the required minimum resolution for the uploaded photos?

The small images need 640 x 480 px or should have 0.5 MB at least. The main image requires 2 MB or 3 megapixel.

Although the required resolutions seem to be small they will work perfectly for the mosaic. However, the resolutions should not be smaller than that.
---
Here's what our customers say: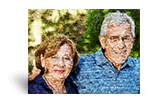 John B., Atlanta
Super easy! Awesome mosaic maker. My wife was thrilled. And that doesn't happen very often…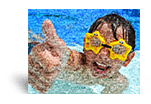 Steven M., Fort Colins
The mosaic was designed to be a present and the recipient was absolutely delighted. Excellent quality. More than happy and would order again from you.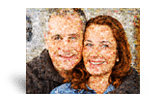 Sarah B., Portland
The mosaic photo looks really great! SUPER! I couldn't believe it. Thank you so much! I will definitely recommend you.
---
---
Photo mosaic generator
Creating your own mosaic couldn't be easier. It's very simply to create photo mosaics online. All you have to do is upload the desired number of photos directly online to create a photo to mosaic. Once your photos have been uploaded into our editor, your mosaic will be generated within just a couple of minutes. The finished picture mosaic can then be downloaded and shared with your loved ones.
---
Photo mosaic creator
With our creator, a mosaic can be created in just a few minutes. In order to achieve a good result, however, there are a few things you should keep in mind to have the best image to mosaic.
Two general rules are important in order to create particularly beautiful mosaics. The main image should have a simple, clear motif. And for the small images: the more pictures you upload the better the picture mosaic effect will be.
---
What is a photo mosaic?
The modern photo mosaic is based on an simple idea: a large image made from many small, colorful pieces. With one difference to the "classic" mosaic- made from "mosaic stones", the photos, each have their own image as well : it's a mosaic using pictures.
This way there are two dimensions to the image. The main image, which gives the mosaic its overall effect, and the many individual images - a mosaic is formed using pictures.
---
The photo mosaic - one mosaic using pictures
Already in antiquity, the mosaic with its small stones and tiles adorned villas and palaces. Just like then, in the photo mosaic many small photos are put together to form one whole image. This makes the mosaic photo so special: although it still looks like a normal image from a distance, the many small photos become visible on closer inspection.
Gift that feeling of "us" with the picture mosaic
The photograph mosaic is also the perfect gift idea, not least because of its beautiful symbolic statement: "The whole is more than the sum of its individual parts". It's not just about the feeling of community – it's ultimately about those little moments that make up our lives. These make the mosaic visible and thus capitalise on the abilities of photography to capture emotional memories.
If you want to gift your mosaic as a birthday present, for example, you can gather many small pictures of the birthday boy or girl and combine them into a large portrait. But also as a retrospective wedding gift or as a loving Christmas greeting, the photograph mosaic is the perfect choice.
How to Create a photo mosaic: What you need to know
Picture mosaic always consist of one large main photo and many smaller photos. The main image determines the motif and thus also to a large extent the effect of the mosaic. Therefore, you should always choose it first.
Large, clear motifs are best suited in this regard. To get started creating the photograph mosaic, you also need at least 30 small photos.
But it's even better if you use 100 or even 1,000 photos for your mosaic. It is important for the selection of the small pictures that the main motif is clearly recognisable.
Since the small pictures on the finished mosaic are only 1 inch in size, small motifs are rather less suitable. While the main photo should have a minimum resolution of 2 MB, 0.5 MB is sufficient for the small photos.
5 tips for unique photo mosaic
1. Don't be afraid of colour: When creating the mosaic, the small, individual photos are matched to the colours of the main photo. Our photo mosaic generator is doing the rest. This results in a homogeneous impression and your main motif comes out better.
2. It doesn't always have to be a portrait: Most of the mosaics ordered from us are full-frame portraits. This is a nice idea - especially if you want to give away your photo mosaic as a present. Nevertheless, it is also worthwhile to look at object photos, animal motifs or landscapes.
3. Play around with different formats: It often happens that the small photos are in different formats. This can look particularly interesting in the final result. Our mosaic maker detects these discrepancies.
As a result, the images are no longer precisely tile-shaped, but rather are arranged in a special grid.
This enhances the mosaic puzzle effect, which often looks very original. So if you are open to a special effect, you should choose a good mix of landscape and portrait-format images!
4. Use as many photos as possible: Although you can create beautiful mosaics even with 30 shots and a main image, it is definitely worth using more than 100 different photos as a basis.
If you consciously use more images, you will achieve a particularly even and elegant look. On average, our customers use about 150 small photos for their photo mosaic.
5. Use repeated images in a targeted manner: Particularly in cases where you want your mosaic to have a clearly defined theme, you may not always have 100 to 1,000 photos from one particular photo shoot or area to play around with.
Fortunately, this is not a problem at all: if you find yourself with too few individual images, the algorithm will optimally arrange the images you do have. In fact, these image repetitions create a super-exciting memory effect in the end, which really draws the viewer's gaze into the picture mosaic.
---
---
You may also like